A Quick and Effective Way to Straighten Your Smile
Welcome to the world of cosmetic braces, where orthodontic treatment meets cosmetic appeal.
Whether you have mild misalignment or more complex orthodontic concerns, cosmetic braces provide a subtle and effective approach to straightening teeth.
While conventional orthodontics typically require 18 months to 3 years for desired results, we offer a faster solution through short-term orthodontics that will allow you to achieve your dream smile in a fraction of the time.
We offer Invisalign at our dental practice, provided by Dr. Muqtadeer Ahmed Syed, to help you achieve a straighter, whiter smile.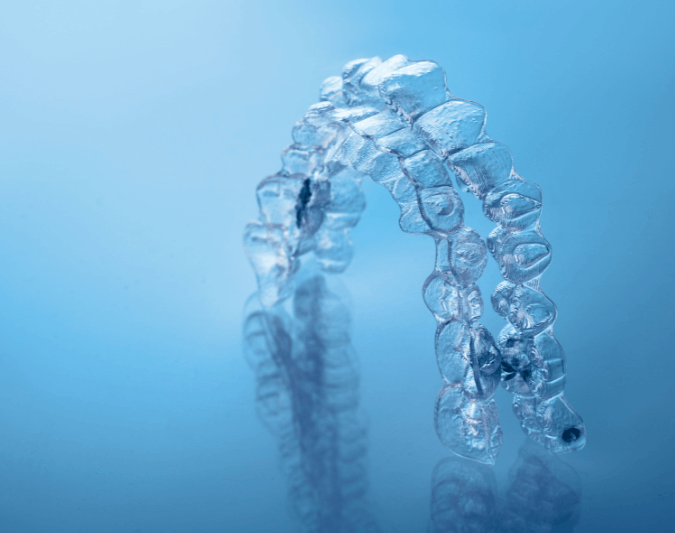 Find out more on our Invisalign page or contact our dental team for more information and to arrange a FREE cosmetic consultation.
Frequently Asked Questions
Will I need to wear a retainer?
Yes, it is crucial to wear a retainer to maintain the alignment of your teeth over time. Since teeth have a natural tendency to shift throughout life, consistent use of a retainer helps minimize this movement. Ceasing to wear your retainer increases the risk of your teeth reverting to their original positions.
Are clear braces the right choice for me?
If you have mild to moderate crowding or protrusion of your front teeth, clear braces treatment could be a suitable option for you. At your FREE consultation, our team will conduct a comprehensive assessment to determine your eligibility for clear braces.
Is it a comfortable experience?
While some patients may experience very mild discomfort during the initial days of wearing clear braces, this sensation typically subsides quickly, after a couple of days. As time progresses, most individuals adjust to the braces, finding them increasingly comfortable.
How often should I wear my aligners (clear braces)?
During your treatment, it is recommended to wear aligners consistently, with the exception of when you eat, brush, or floss your teeth. Ideally, patients should aim to wear their aligners for a minimum of 20 hours per day, everyday.